What is dystopia?
I think of dystopias as imagined societies created and shared in order to critique and/or caution readers of certain trends, norms, or social and political systems that the author deems as dangerous or undesirable. This is evident when dystopian works from different centuries or ages are compared to each other as observed in The Cambridge Companion to Utopian Literature by Gregory Claeys. The focus of the critique transforms as different social trends and norms come into place along with the new century. Admonishment of certain political and social systems changes with the current systems as well, for example, capitalism being critiqued in times of economic struggle or failure.
The authorities in dystopian societies create their dystopia as a solution to an issue or crisis that they are approaching or experiencing. These "solutions" paint a negative perspective of society as well as humankind on a fictional canvas. Dystopian societies often follow ridiculous rules and norms that may seem specific to that dystopia, but actually embody much broader aspects that are applicable to our current, non-fictional world. An example of this is in Suzanne Collins' The Hunger Games. While the Capitol insists that the games are to keep peace (and to keep the people of the Capitol entertained), their actions actually translate into a general warning of government power and oppression.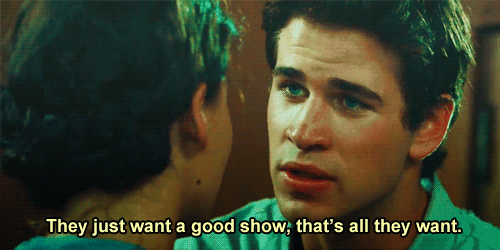 Combining dystopia with another genre doesn't change my definition as the combination serves to focus the critical spotlight, illuminating the concept or behavior that the author most disagrees with. For example, a dystopia combined with the sci-fi genre critiques humans' use of technology, often dissenting our efforts to mechanize and genetically engineer many aspects of our lives. Dystopias paired with the romantic genre are reproachful of repression of emotions. They might consist of a system where the citizens are all participants in a giant, computerized match-making program as observed in the dystopian novel, Matched by Ally Condie. The system might even prohibit or obstruct the citizens from expressing or feeling love.
Bringing dystopian literature into the YA field brings significance to the genre. Opening the younger generation's eyes to the world of dystopia allows them to consciously and subconsciously absorb messages about society and humanity. Of course, other literature besides dystopia in the YA genre relays messages, but much stronger and deeper critique is provided through dystopia. The often shocking or disturbing worlds of dystopia are more captivating and can convey provocative concepts without being too philosophical to keep young readers' attention.
Whether you're actively looking for something that will change the way you view society, or just want something to sit down and enjoy, dystopia fiction will leave you with something to ponder.
Works cited:
Claeys, Gregory. The Cambridge Companion to Utopian Literature. Cambridge, Cambridge University Press, 2010.
Collins, Suzanne. The Hunger Games. New York, NY, Scholastic, 2008.
Condie, Ally. Matched. New York, NY, Dutton Books, 2010.