During the  ski-chase scene between Zero/Gustav and Jopling, The Grand Budapest Hotel switches to stop motion animation. The actors are replaced by clay models and the set is sized down to just a few feet across. The picture below is the best example I can find of the exact scale. An interview I found (linked at the bottom) attributes this change to the fact that Willem Dafoe wasn't a great winter athlete, but I think there is more to it.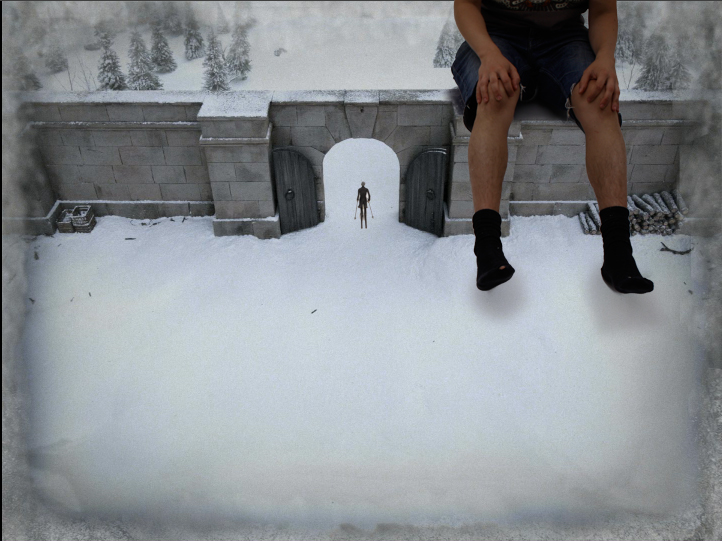 Jopling is a very physical character; the grit with which he dons his skis fully implies some talent there. Meanwhile, Zero is from the desert (probably, given his experience during the "Desert Uprising"). Gustav isn't really the skiing type. They also don't have any skis. The absurd idea of two novices on a decorative sled chasing a trained killer on skis down a mountain necessitates a break from reality. The stop motion animation has a cartoon-ish aspect to it that reflects the hilarity and surreal nature of the scenes.
Stop motion is used in a few other scenes, all involving motion. The Funicular to the hotel, and the gondola to the monastery are animated with stop motion. Maybe this is due to real life constraints (e.g. budget), but the journey to the monastery is also ridiculous enough to warrant a departure from reality.
Other thoughts:
Wes Anderson released a full-length "claymation" movie called Fantastic Mr. Fox, so he has experience working with stop motion. His next movie, Isle of Dogs, appears to be entirely in stop motion. The often surreally colorful set design of The Grand Budapest Hotel meshes well with the stop motion style.
Questions:
What is with the use of language? Almost no one speaks with an accent, unless they are saying someone else's name. Everyone speaks English.
Why set the film in a fake Eastern European country?