http://www.theatlantic.com/politics/archive/2014/07/millennials-economics-voting-clueless-kids-these-days/374427/
Summary: The author of this article claims that millennials have a political viewpoint that does not make any sense. He gives a series of statements that seem to be saying that the opinions of millennials are contradicting and hypocritical. He claims that young people are only liberal until they make money, and then they become conservative. He also thinks that young adults have no idea how the economy works. Lastly, he says that millennials love socialism but do not understand how it works.
Claim 1: Millennials are more liberal than the rest of the country, particularily on social issues, but they get more economically conservatice when they make more money.
Misleading. First, the writer goes off on a tangent about how poor people are historically non-white and liberal. It has no relevance to the article. Then, he includes this chart: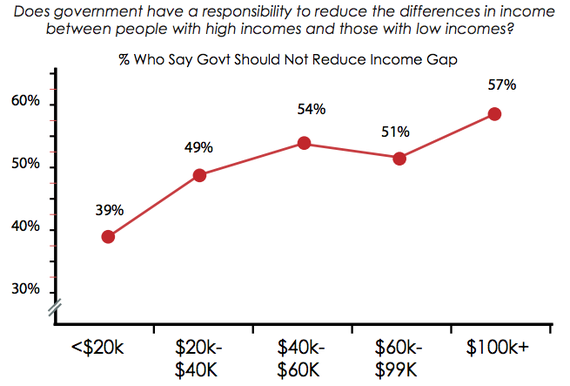 The scale on this chart causes it to be misleading. It seems there is a large difference between the income groups, when really it is only 18 percent. He also linked to an article about millennials being confused about their economic stance, but the article was written by he himself. All the information used is biased and therefore misleading.
Claim 2: Millennials don't know what they're talking about when it comes to economics.
Misleading. The writer gives an example of a "survey" filled with his own personal interjections and opinions. The studies he references are from Reason Foundation and Pew, which are known to hold libertarian views. He brings up social security being something millennials don't understand, when it isn't even mentioned in this "survey." He then gives the statement most adults don't understand economics and "economics is hard" which contradict his claim that millennials do not understand it.
Claim 3: Millennials don't know what socialism is, but they think it sounds nice
False. He says this is "entertaining nonetheless", making it obvious his main goal is just to belittle millennials. He gives statistics that more millennials want socialism than can accurately describe it, but doesn't reference any studies directly. Also, it would be difficult for someone to even correctly define capitalism, so this is simply misleading and obtuse.
Plans for argument:
He gives little reference to credible sources, sticking in charts that hold very little relevance
I will point out that he goes on many tangents and will mention thinks millennials "don't know" with no proof that they were even given the chance to explain
He links to his own writing several times.
His other articles that he uses to support this one make similar ostentatious claims with no research to back them up.
Other thoughts: Overall I thought this editorial was very misleading, and I even searched to check if it were a satire. His claims are so ridiculous that I thought it was a joke.